The very short biography of a wedding photographer in Cyprus who passions every moment captured!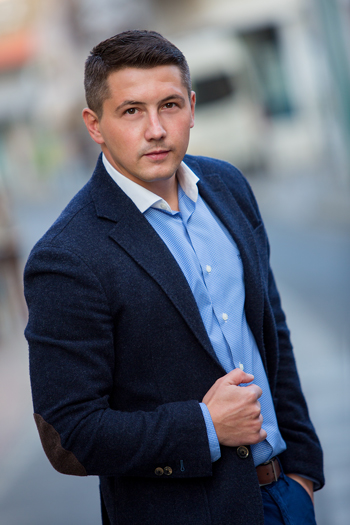 I am a professional wedding photographer, photography being my biggest passion of all. I use my imagination and I work with my soul in order to catch the moment, as beautiful as it is, to catch it and frame it – that's is what I love the most.
My favourite style used for events is photojournalism, as the photographs tell the story of the event, naturally unravelled. It means that I love capturing the emotions and feelings of that specific moment, especially when shooting wedding photos and special moments as the baptism of a little angel.
I like to use my imagination and creativity in order to bring a smile to people's faces. All sessions are directed, controlled and supervised very carefully, focusing on the smallest details and emphasizing on the natural beauty of the models.
With a commitment to diversity, my aim is to create something unique for each event. I find that it is too dull to have patterns and repetitions throughout my pictures, and my passion for photography makes me aim to capture each person's beautiful world in a distinctive and captivating manner.
I am pleased that clients from United Kingdom, Lebanon, Russia, Italy, China, and many more gave me their trust. It is an honor to capture memories of people from all over the world.
Although I am based in Cyprus, I am worldwide available for exclusive wedding photography.
I consider that keeping up with the latest technology is a must for each professional wedding photographer, therefore I am using the latest available equipment when capturing those special moments and I love taking advantage of the natural light. Most of my pictures are taken during the day in order to benefit from the sun's natural light. I try to limit the use of the flash and only utilize it where natural sunlight is insufficient.
One of the most important success factors for a professional photographer is education. I consistently attend many international seminars across Europe and am a member of a few prestigious international associations. I have a great deal of experience as a wedding photographer but also shoot countless other events including christenings, engagement celebrations and individual portraits.
As a professional wedding photographer it would be my honour to capture and frame memories for your special day. I work very closely with each of my clients both before and during the event, ensuring that they will get a package designed and customized to meet with their specific desires and wishes.
Above all else, my mission is to offer you exceptional wedding & portrait photography, and memories that will last a lifetime.
Sincerely,
Cristian Dascălu